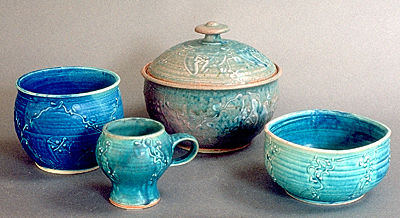 Serving Pieces
Copper Harbor Design
These pieces come in all color combinations.


A collection of pieces in the Copper Harbor Glaze. From Left to right: Small Cache Pot, 7" wide, 6" tall, $34, (B2) ; Pedestal Mug, 10 oz. capacity, $18, (M3) ; Small Casserole, 9" wide 8" tall, 1" qt capacity, $60, (C2); Small Squared Bowl, 6" wide and 4" tall, $40, (B7). These pieces are available in all the other color selections.
Small Cache Pot
B2 - $34.00

---