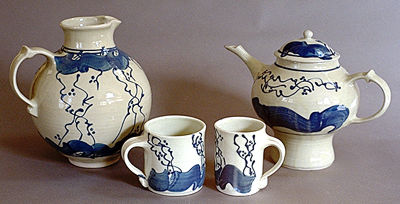 Pitcher, Teapot and Mugs
Lake Superior White Caps design.
These pieces come in all color combinations.

Collection of pieces in the Georgian Bay color pattern on porcelain. From left to right: Large Pitcher, 9" tall, 4 qt. capacity, $70, (P2); Regular Straight Mug 12-14 oz. capacity, $22, (M2); Small Straight Mug. 8-9 oz. capacity, $18, (M1); Large Tea Pot, 9" tall, 1 _ qt. capacity, $95, (T2). All are dishwasher safe. They all are food safe for hot or cold beverages. They are also available in Copper Harbor, Iron Mountain and Lake Superior.
Large Pitcher
P2 - $70.00

---